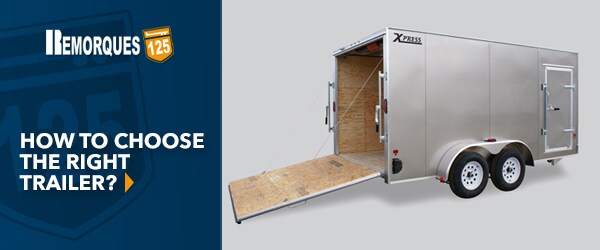 How to Choose the Right Trailer?
The purchase of a trailer is often made in response to a specific need. Sorting green waste, going on holidays, heavy-duty works, moving, transportation, etc. In this regard, the trailer is a very practical equipment.
However, we would like the trailer to be able to meet other needs as well, which means that its modularity should be an essential criterion to consider. So, before you go ahead with the purchase of your next trailer, here are some useful tips that you might want to keep in mind.
First, you have to ask yourself what this trailer will be primarily used for. Will you use it mainly as an equipment for work (transport of materials, tools, specialized equipment, etc.) or for several other purposes on a regular basis? The answer to this question is paramount in order for you to make the right choice. For example, at Remorques 125 & Powersports 125, we can advise you depending on your needs by presenting you with different options. If you only need your trailer to complete your renovation work, then opt for a single-axle trailer. This type of trailer has two wheels and is versatile. If you need a trailer for different activities, and with which you intend to hit the road regularly, you should instead turn to a double-axle trailer. This model has four wheels and is known for its stability. With this type of trailer, the loads tend to be better distributed. It is also often said that a double-axle trailer is more stable. For the transport of larger materials and tools on a more regular basis or for larger waste, this type of trailer becomes more optimal equipment.
But there is more to think about than the axles. Take note of the fact that steel crates are often stronger and more effective than those made from other materials. In addition, you should pay attention to the diameter of the wheels, especially if you have to use your trailer on a regular basis.
It is also suggested to make sure that the hitch is high-quality and V-shaped. This one allows to better balance your hitch and it's thus more effective. In any case, your hitch must also be chosen according to the type of your vehicle. If you intend to carry solid materials such as sand or gravel in your trailer, you should check the tilting of the box. In this regard, a tilting front and rear is required if you often carry this kind of materials. Another factor to consider when buying a trailer is its weight. It's likely that your trailer will have another purpose than the one you are currently envisioning. It's suggested be careful by opting for a slightly larger trailer or one that can carry a 20% higher load. That should help you avoid surprises.
As you can see, the choice of a trailer is not as simple as some of us think, since there are as many trailers as there are potential usages. For example, the luggage trailer is of fairly light size will be useful for vacations and short trips, for example. The van trailer is more specifically designed for the transport of horses. The vehicle carrier trailer is the ideal equipment for transporting motorcycles, boats, bicycles or even cars. Some vacationer who leave for the South in winter will transport their main vehicle with this kind of trailer. There are also recreational or sport trailers. They are made for quads, motocross and more. Finally, we can't ignore trailers that are made for heavy work. As their name suggests, they are larger to allow you to transport materials of all kinds.
In short, at Group 125, we have a long track record with trailers and sports trailers. We have closed and open trailers for sale. Our crates come from different materials, but when they are made of steel, it's hot-dip galvanized. All our trailers have a large load capacity, and we have a large inventory of new and second hand units.
In short, the world of trailers has been our expertise for decades. At Trailer 125 and Powersports 125, we have a trailer that will surely meet your expectations. Whether you are a fan of renovation, travel or sport, we have the right equipment for you. Our experts are eager to share their knowledge, to talk to you about all the characteristics of our models, to show you our vast inventory, and to guide you in your choice. Come meet us now at Remorque 125 and Powersport 125 in Saint-Esprit, near Sainte-Julienne and Saint-Lin from the Laurentians. We are waiting for you!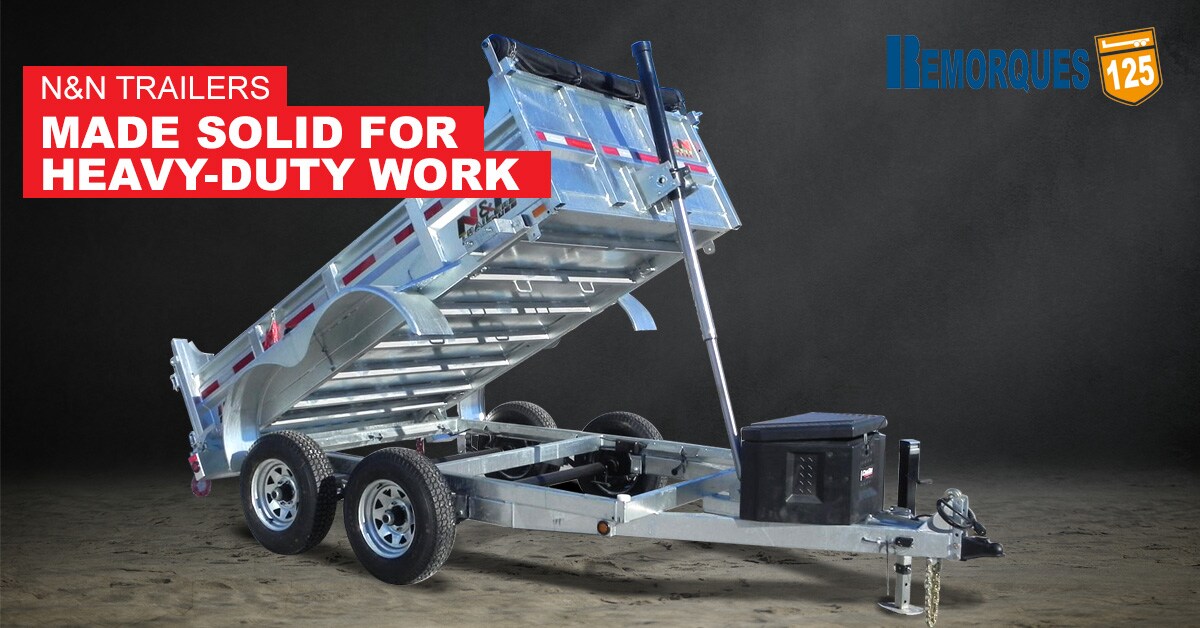 Remorquage Lanaudière: N & N Dump Trailer
It's worth mentioning that N & N trailers are known for their durability and their robustness. This manufacturer is recognized worldwide for the quality, the durability and the high payload capacity of its vehicles and has been in business for ages.
N & N Trailers, Made Solid for Heavy-Duty Work
At Groupe 125, we specialize in trailers of all kinds, including N & N trailers. Designed with high performance galvanized steel, these trailers are the best choice for contractors, landscapers, excavations experts and heavy-duty haul work.
When we talk about this type of trailer, diversification is at the rendezvous. At Groupe 125 we are proud to present you with utility trailers, gooseneck, rockers, landscape, platforms, ATV, snowmobile, etc. In all cases, these trailers are built with high quality materials. They are sturdy and durable. This legendary brand is among the top ones in the world.
At Remorquage Lanaudiere, we have been specializing in trailers for many years. We have trailers for sale that belong to the best manufacturers. For a long time, our job has been to support people by providing them with advices and meeting their needs. It's without question that we have knowledge of the types of trailers on the market.
The Hot Galvanized Steel Dump Trailer offers you different loading options and allows you to open doors to unload your stuff, regardless of the obstacles. The easy-to-maintain telescopic cylinder in front of the tamer gives you a pronounced angle, which translates in turn to superior strength. With its smart battery charger, wireless controller and Honda gas engine, this trailer is ideal for heavy duty jobs.
All N & N trailers are top quality. They are all guaranteed and they are made to last a long time. High performance galvanizing protects all steel parts from rust more effectively than paint. In short, we can say that N & N trailers are strong and robust thanks to the ingenuity of their design and the high quality of the materials used.
Why Choose Groupe 125?
Our company only sells quality products. We have been in business for so many years that we have become experts in establishing the needs of customers and providing them with the best solution.
In addition, our products come from the best manufacturers in North America. Since we are on the lookout for trailer market trends, we are able to effectively advise our large customer base that comes from everywhere.
But there is still something more fundamental that makes Groupe 125 a leader in its field. Our prices are unbeatable and we challenge all the competition. With our extensive inventory, diversified product lines and long experience in trailer consulting and sales, we can offer you N & N trailers at an incredibly low price.
In short, Groupe 125 is a pioneer. Come meet us now at Saint-Esprit to discuss N & N trailers. We will listen to you and establish your needs with you. After all, we want to take part in the success of your business. Our way of doing it is to offer you all our expertise and talents. See you now at Remorques 125 and PowerSports 125, at Saint-Esprit in Lanaudiere, near the Laurentians, on the North Shore. We are waiting for you!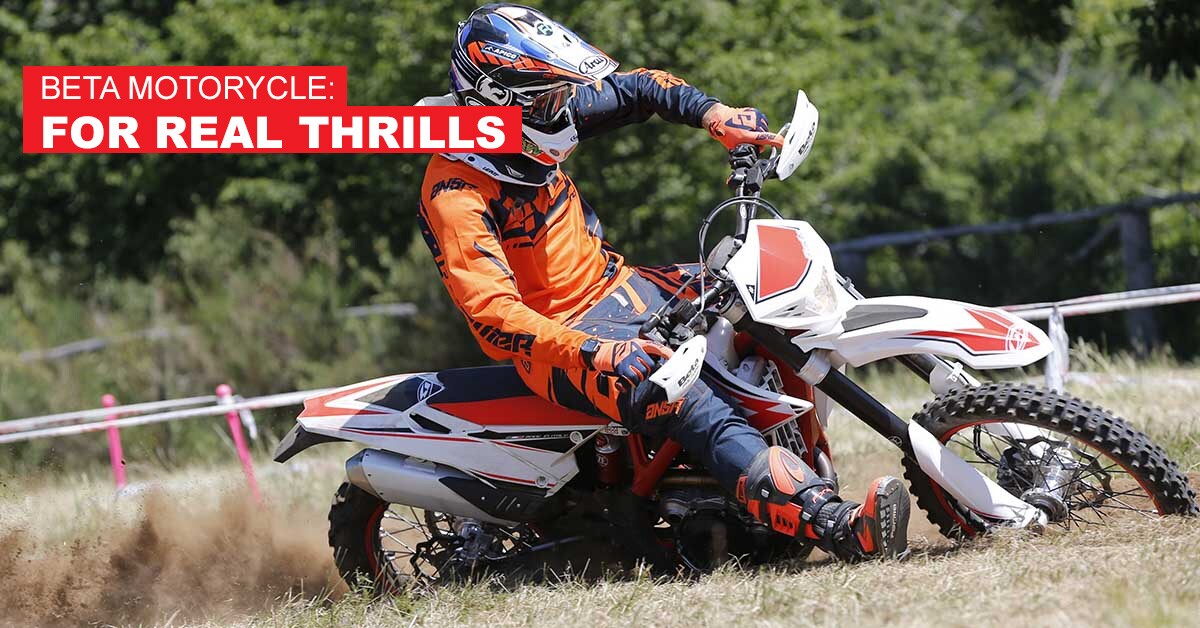 Beta Motorcycle for Real Thrills!
​
You dream of having thrills, you like the Trial, but also the excursions on rocky ground, you are attracted by legendary models, then you need a Beta bike. Beta Motorcycle is more than a manufacturer of motorcycles, it's a legend coming directly from Italy and that has been going strong for 115 years. At Groupe 125, we are Beta's dealer in Montreal and the best connoisseur of sports bikes in Quebec.
What is Beta Motorcycle?
The Italian designer Giuseppe Bianchi started making bicycles and, over the years, with his son Enzo and a friend Arrigo Tosi, the group took shape and Beta decided to start making motorcycles. From 1905 to 1959, the company experienced a boom in bicycles, but even more in motorcycles. Coming from Via Bellariva to settle in Osmannoro in Florence in the late 1960s, from 1970 to 1979, the initial idea was to build motorcycles for sport, so the company initiated new models that won many competitions on the national and international stages.
With the skyrocketing of motocross in the 1980s, the company decided to embark on the trials and a series of machines were created, many of which won world championships. During this period, Beta didn't neglect its off-road machines and its many mopeds. The following decade will be devoted to major changes in the administrative and productive structure of the company with the arrival of Lapo Bianchi within Beta. From now on, the world market of the sale would conquer the company which nevertheless remained a leader in the contest of tests.
Since the 2000s, Beta has been expanding its global business, creating strategic alliances with KTM and Suzuki (2000-2009), marketing its Enduro bikes and now producing all its two- and four-stroke engines within its business (since 2010). Beta wins international successes and prestigious manufacturer awards, making it a solid company worldwide with its 30 models of sport bikes, including the Enduro RR 2T and RR 4T range, which are available in different categories ranging from model 50 to 480, Trial models like the EVO 2T 125/300 and EVO 4T 300, and finally the range Mini Trial which is also in demand.
Why Group 125?
Groupe 125 at Saint-Esprit in Lanaudière, near Saint-Jérôme, Laval and Montreal, has been the official dealer of the Beta brand for many years and knows this product inside out with legendary brands in the field of new and second hand motorcycles at unbeatable prices. If you want to experience thrills while remaining in control over rugged and steep terrain, adopt the Beta brand with its RR 250 Race Edition models or RR 480 Race Edition, 125 RR, 300 RR and the Evo Mini Trial.
At Groupe 125 we offer in-house financing in a few simple steps and we will respect your budget to offer you the best purchasing solutions with a favorable interest rate. Since we've been in business for a long time, our reputation precedes us and we always offer the best quality to our customers. Come try out your next Beta Motorcycles motorcycle and you'll be the ultimate winner down the line.